Womens Retreat
Women's Spiritual Retreat
with Guest Speakers
October 16 - 18, 2020
God renews us as we draw near to Him; letting His Word take root as truth in our hearts, minds, and daily decisions. Come experience meaningful fellowship and moments in Scripture that can enrich your life-and the people you encounter.
Activities Include: Horseback Riding, Hiking, Quiet Time, Coffee Talk, Pottery, Door Prizes, Zipline, Campfire, Icebreakers, Equine Assisted Learning, Group Gatherings & More!
Guest Speakers
Wendy Pearson
Wendy Pearson is a close friend and volunteer to Potter's Ranch. Growing up at a Christian Camp in Southern Ohio, Wendy has developed a deep love for the camping ministry. Not only is it where the Lord got a hold of her life, but also where she met and married her best friend and husband, Matt. Matt & Wendy are very blessed with two grown sons who are serving the Lord with their individual talents. Wendy's desire is to share with women what God is teaching her in how tremendously loved and cared for we are by a wonderful Father, and how we as women need to respond to everyday life, making it our goal to hear, "Well done, good and faithful servant." (Colossians 3:17)
Jessica Moorhouse
Jessica W. Moorhouse holds her PATH, Intl. Certified Riding Instructor certification, she has her ESMHL (Equine Specialist in Mental Health and Learning) certification and she is a CHA (Certified Horsemen's Association) Certified Riding Instructor. In addition to teaching at Potter's Ranch, Jessica is the Activities Coordinator at a local children's home in northern Kentucky.
Jessica's passion for horses started at a very young age which led to her passion for therapeutic riding. After volunteering with the Ohio Therapeutic Horsemanship program where she witnessed firsthand the benefits therapeutic riding had on a 6 year old little girl named Gabbie. Jessica knew where the Lord was leading her.
Jessica has been chosen as recipient of PATH's Region 4 Credentialed Professional of the Year Award for 2019. She will receive her Award in May at the PATH Region 4 Conference. Potter's Ranch is honored to have Jessica on their staff as their head PATH Certified Therapeutic Riding Instructor. Jessica will be leading an Equine Assisted Learning Session using her horses Mac & Zap.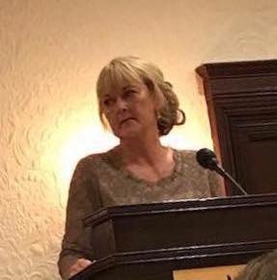 Pamela S. Roberts Dimmerman
Pam Dimmerman is a federal retiree having served 21 years on staff of a United States Senator. Since her retirement 11 ½ years ago, Pam has continued to work on the political campaigns of many politicians. Because of those relationships, she found herself lobbying in Frankfort, Kentucky for those who suffer from the disease of addiction.
She has been a volunteer for many organizations including the American Red Cross, Rotary International and the American Legion Auxiliary where she has been teaching the campaign and election process to girls entering into their Senior Year of high school for 11 years.
Governor Bevin appointed Pam to the Martin Luther King, Jr., Commission in 2017 where she is currently serving until her Commission expires. She is the current 3rd Vice President for the Kentucky Federation of Republican Women in their state organization.
Pam served on the Board of Directors for Potter's Ranch from August, 2018 to August, 2019. She continues her service to the ranch as a volunteer where else? The barn.
She is a Christian, Conservative Believing that she should share the many Gifts that God has given to her.
Holly Hightchew
Holly Hightchew knows all about living an imperfect life. In fact, she believes women often strive in vain to reach the unattainable idea of perfection and then feel guilty when they don't. She would be the first to admit that there is no such thing as a perfect wife, a perfect mom, or for that matter, a perfect child. She has learned to enjoy her own perfectly imperfect life which consists of being "the preacher's wife" for more than 20 years, homeschooling her three children and helping families navigate the world of dyslexia.
It was only after her youngest daughter was diagnosed with profound dyslexia that Holly geared her passion and training to helping children with dyslexia successfully learn to read. She now works with dyslexic students and their parents providing reading assessments and training at The Learning Curve in Union, Ky. She helps train parents, teachers and tutors to work with children using the Orton-Gillingham method. Holly worked this past summer as the Academic Director of Dyslexia Camp at Potter's Ranch. Additionally, she is a Certified Barton Tutor.
Holly holds a BA in Communication and Business Administration from Northern Kentucky University. She worked as the Human Resources and Public Relations Manager for Gallatin Steel in Ghent, Kentucky. She has served on the Board of Trustees for the Gallatin County Public Library in Warsaw, Kentucky, and has volunteered many summers working as a camp counselor at Happy Hills Christian Service Camp in Carrollton, Kentucky. She and her husband, Bob, have been happily married for 28 years, and along with their three children, live in Warsaw, Kentucky. Her husband serves as the senior minister of the South Fork Christian Church in Verona, KY.
Linda Jane Detrick
Linda Jane Detrick counts her blessings every day. A life-long Christian, she is humbly grateful for God´s gifts of faith, family, friends, and cats, dogs, and horses. As a volunteer in four therapeutic riding organizations, Linda realized God had exciting plans for her life.
Her passion and purpose is Equestrian Ministry. Inspired by world famous horseman John Lyons, and author, horsewoman and mentor, Maureen Gallatin, Linda founded Promise Ponies mini-stry in 2010. Promise Ponies serves special needs kids, elderly people, and anyone who loves little horses. Ten miniature horses and ponies have played a part in God´s calling to date. Promise Ponies seeks to demonstrate God´s promises to His people through sacred scriptures in the Bible.
Linda has a Facebook ministry for Promise Ponies, as well as MEOW mini-stry for cat lovers, and Promise Pup for dog lovers. Followers across the country have grown closer to the Lord through these online ministries.
In addition, Linda is a founding member of Horses on a Mission, and Amazing Women and Horses, based in Tryon NC. Both are international outreach ministries for horsemen and horsewomen. God loves horses and their people!
Volunteering at Potter´s Ranch is a special blessing for Linda because God´s presence is evident every day, as new adventures await all who step foot on this sacred ground.
Linda´s favorite scripture is Psalm 37:4 "Delight yourself in the Lord, and He will give you the desires of your heart".
ITINERARY
EVENT OPTIONS